MF2300-F2
Double Sided Laminator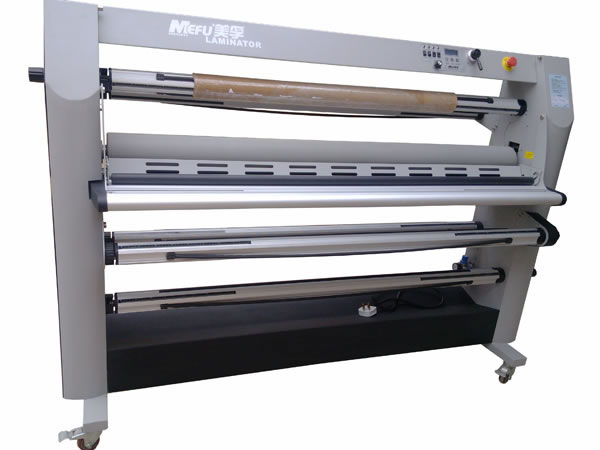 Introduction
MF2300-F2 double sided laminator is a hot and cold mounting laminator developed based on MF1700-F2 series. It has been maximized in lamination control and lamination capability. This wide-format laminator comes with maximum laminating width up to 2.28m/90''. It has a variable speed foot pedal to provide hands-free control and improve handling when mounting graphics.
This double sided laminating machine can be used with an extensive range of laminating films, adhesives, and substrates to provide extra capacity and more versatility. An advanced laser safety system is installed to the two sided laminator. It can immediately stop the rollers whenever an obstruction is detected. MF2300-F2 double sided laminator is a good finishing machine that helps you grow and development your business.
Specifications
| | |
| --- | --- |
| Model | MF2300-F2 |
| Type | Heat-assist Cold |
| Max. Lamination Width | 2280mm/90'' |
| Max. Lamination Thickness | Up to 30mm/1.2'' |
| Heating | Infrared |
| Heating Type | Dual heated rollers |
| Max. Temp. | 120°C/248°F |
| Warm Up Time | 15-20 min |
| Max. Speed | Up to 7m/min |
| Roller | Silicon |
| Roller Diameter | 130mm/5'' |
| Power | 5000W |
| Voltage | 110V/220V |
| Height Adjustment | Air pressure |
| Pressure Adjustment | Air pressure |
| Silent Air Compressor | Optional |
| Foot Pedal Switch | Yes |
| Safety | Laser eye |
| Certificate | CE, RCM, ROHS |
| Static-free | Yes |
Benefits and Features
Optimum Performance
1. MF2300-F2 double sided laminator is capable of heavy-duty works, as it utilizes high quality dual-heated silicon rollers.
2. It has adjustable settings for increased capacity and versatility.
3. It is not only suitable for double-side hot & cold lamination, but also for single-side hot & cold lamination.
4. This two sided laminator has a unique anti-tilt and anti-fold system, because of which clear output is ensured.
Ease of Use
1. While using, the pressure and nip gap will be automatically adjusted.
2. The two sided laminating machine comes with simple film tension adjustment.
3. Light weight drop-in supply shafts with auto-grip avail for easy loading
4. This range of laminating equipment is applicable for roll-to-roll operation.
5. A foot pedal switch makes it suitable for piece-to-piece application.
Safety
1. A foot switch is installed for hands-free operation.
2. Operators work in complete safety because of the laser safety eyes and 2 emergency stops.
3. MF2300-F2 series double side laminator is with CE, RCM, and ROHS approval.