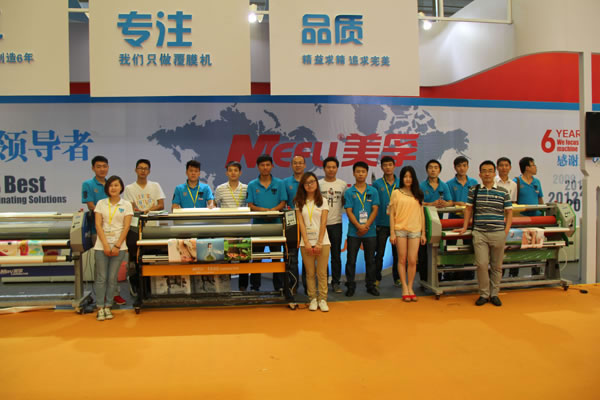 Mefu has exported advertising laminator and flatbed laminator series with a coverage of more than 10 varieties as well as have supplied numerous kinds of professional custom services to more than 41 areas including countries and regions. Our company is a professional laminating machinery supplier. We consistently solve the technical problems to ensure lamination without bubbles, folds, or deflection at any environment, thereby guaranteeing high quality lamination efficiency.
1. Lamination quality improvement
Infrared temperature control provides accurate temperature control. Heating makes film more sticky and comes with better ductility, ensuring quality lamination with bubble free.
2. High Rate of Laminated Products
Materials rod with tightness adjustable can improve the film ductility without folds. The pressure device will be automatically adjusted. No frequent manual film pressure adjustment is need.
3. Improve the laminating efficiency and decrease the labor cost.
The bottom film is automatically uncovered, saving labor cost. Unique deviation prevention system provides a guarantee for continuous lamination. A flatbed laminator can synchronously laminate plates with same thickness.
4. Long service life and low maintenance cost
Our laminators adopt high quality rubber roller characterized by high temperature resistance, good flexibility, and long aging period. With seamless thickened steel roller core, the rubber roller can be used for a long time without deformation. Consumable items can replaced alone, which is really convenient and efficient.