MF1700-F5
Fully-auto Heat-assist Cold Laminator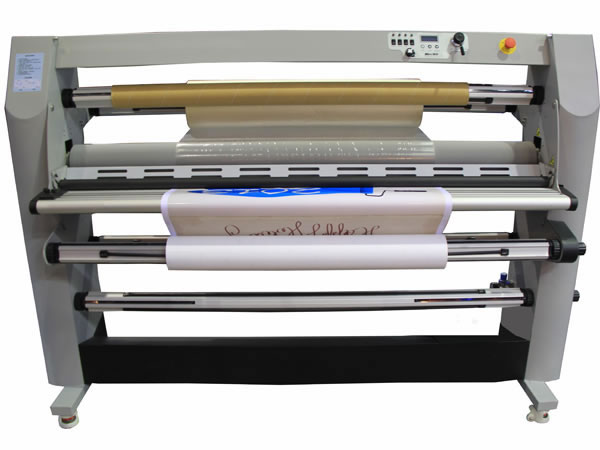 Introduction
MF1700-F5 fully-auto heat-assist cold laminator is a wide-format single-sided hot and cold mount laminating machine that offers industrial performance at exceptional value. Because of its fully adjustable settings such as temperature, speed, and pressure, the heat-assist laminating machine is ideal for the more experienced finisher requiring a highly versatile laminator. Its larger diameter silicon rollers with precise pressure system do bring a better lamination result.
Unique design elements are applied to the fully-auto heat-assist cold laminator. There are anti-tilt system, laser eye for safety protection, and an easy feed tale which incorporates image guide for infeed of media. This new laminator will fit perfectly in your workshop with its technology and design. A bigger version is also available.
Specifications
| | |
| --- | --- |
| Model | MF1700-F5 |
| Type | Heat-assist Cold |
| Max. Lamination Width | 1620mm/64'' |
| Max. Lamination Thickness | Up to 30mm/1.2'' |
| Heating | Infrared |
| Heating Type | Heated top roller |
| Max. Temp. | 60°C/140°F |
| Warm Up Time | 5-10 min |
| Max. Speed | Up to 7m/min |
| Roller | Silicon |
| Roller Diameter | 130mm/5'' |
| Power | 2500W |
| Voltage | 110V/220V |
| Height Adjustment | Air pressure |
| Pressure Adjustment | Air pressure |
| Silent Air Compressor | Optional |
| Foot Pedal Switch | Yes |
| Safety | Laser eye |
| Certificate | CE, RCM, ROHS |
| Static-free | Yes |
Benefits and Features
Optimum Performance
1. MF1700-F5 fully-auto heat-assist cold laminator uses large-diameter high quality top-heated silicon roller to offer good finishing to your prints.
2. Its adjustable settings contribute to increased capacity and versatility.
3. This laminating machinery is ideal for single-side Heat-assist laminating, mounting
4. It has an unique anti-tilt and anti-fold system ensuring clear output.
Ease of Use
1. Pressure and nip gap are automatically adjusted.
2. This cold laminator has a simple roll tension regulation system.
3. Thanks to the light weight drop-in supply shafts with auto-grip, the film loading is very easy.
4. MF1700-F5 series is capable of roll-to-roll operation.
5. A foot pedal switch equipped makes it suitable for accurate piece-to-piece application.
Safety
1. This fully-auto laminator has a foot switch for hands free operation
2. Its laser safety eyes and 2 emergency stops allow operators work safely.
3. Cold laminator of MF1700-F5 series has been CE, RCM, and ROHS certified.